2023 Benjamin Franklin Award Recipient Phil Scott
Date posted
August 11, 2023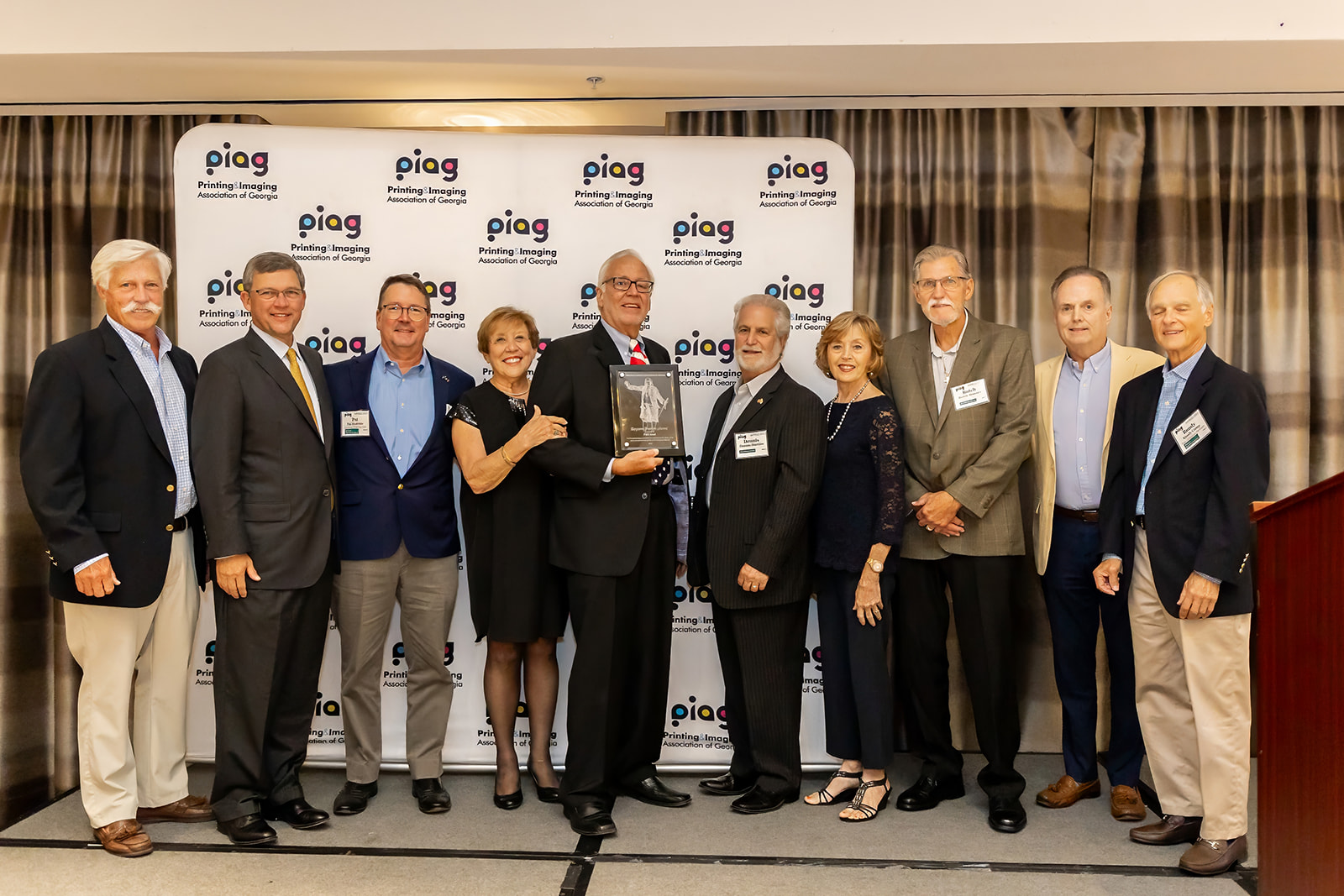 PIAG's Benjamin Franklin Award recognizes an individual for lifetime contributions and achievements within our industry and within their community. This award is the highest honor presented in Georgia's printing industry, and the recipient is chosen by a Selection Committee composed of Past Benjamin Franklin Recipients and the PIAG Executive Committee.
PIAG is proud to honor Phil Scott of Scott Lithographing as the 2023 Benjamin Franklin Award recipient.
Phillip Edward Scott was born to Eola and Charles Scott at Georgia Baptist Hospital and raised in Decatur with his three younger siblings – Kay, Howard, and Randy. Phil was an active child who loved fishing, hunting, and playing sports. As a teen, he built and raced muscle cars, although the racing was short lived.
Phil pursued his bachelor's degree in management science at Georgia Tech. While there, he met his future wife, Elizabeth, and they married in 1977. Phil and Beth have three children: Lindsey, Chad, and Lance. All three are Clemson graduates, with Chad and Lance graduating in graphic communications, and Lindsey earning her nursing degree.
Phil's involvement in the print industry began at a young age. In 1966, while Phil was in high school, his father Charles and uncle Bill started Scott Lithographing with a small shop in Little Five Points. In between classes, Phil worked at the shop washing presses, cutting paper, boxing products, making plates, and sweeping the floors.
While in college in 1972, Phil's father passed away suddenly. His uncle Bill and brother Howard decided to continue operating the business, and Phil continued working for Scott Litho throughout his time at school.
After graduation, Phil further immersed himself in the business, becoming more familiar with estimating, scheduling, and management. The business continued to grow, and Phil and Howard moved to a new facility in Avondale Estates. In 1984, Scott Litho purchased the building in Tucker that they continue to operate out of today.
Innovation and serving printers in Georgia have always been a part of Scott Litho's mission. With a larger footprint, they now had the space to purchase their first 4-color press, and they continued adding services over the years. In 2018, they became the first Georgia printer to install an LED press, a huge investment to better serve their customers.
Phil served as President of Scott Lithographing for 40 years before retiring. However, with their recent acquisition of Art Laminating & Finishing, Phil has been pulled out of retirement to lead the charge in moving equipment from Atlanta to Tucker by the end of the year. The fishing will have to wait a few more months!
Over the years, Phil has volunteered his time to the industry and this association in multiple capacities. He served on the PIAG Board of Directors and Educational Committee, advocating for high school print programs and college scholarships.
He also has been a selfless contributor to his community, starting with coaching his kid's youth sports teams and continuing the tradition by coaching for his grandchildren today.
He served on the South Gwinnett and Shiloh High School athletic association's boards and was instrumental in fundraising efforts to build Shiloh High's first football stadium. Phil was honored with the distinguished Charlie Jordan Award for his many years of dedication to Shiloh High's program. Additionally, Phil has served on the FCA Board, Dekalb Technical School (Printing Division), Shiloh High Foundation, Shiloh Youth Association, and Moorings HOA.
During the last 15 years, Phil has become active with several missions. He helped establish the stateside mission for Yond Ministry in Sierra Leone and a Loganville Baptist Mission called Belief in Motion. He also works with an organization aiding the refugee crisis in Romania brought on by the war in Ukraine.
Presently, Phil serves as a trustee at Bethany Baptist Church and Bethany Baptist Church Men's Ministry. He also recently accepted a board position with Eye Believe Foundation, an organization that feeds 600 homeless people in Atlanta six days a week and helps with job placement.
Now in its third-generation, Phil helped grow Scott Litho into the successful business it is today, continuing to serve printers' needs throughout Georgia.
This snapshot only scratches the surface of his commitment to his family, community, and industry. With all these accomplishments to his name, those who know him best would agree that Phil would first want people to see in him his unwavering faith in God.