Choose Print
Print delivers results, promotes forests, and drives sales.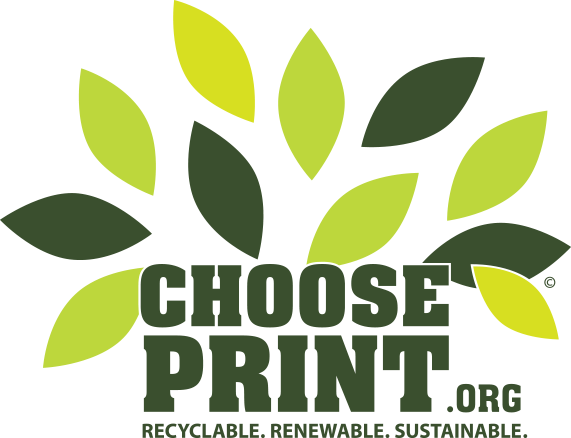 Choose Print is an educational campaign designed to promote the effectiveness of print and to reinforce the fact that print on paper is a recyclable and renewable and thus a sustainable environmental choice. Choose Print is sponsored by Printing Industries Association, Inc. of Southern California (PIASC), the largest local graphic arts trade association in the nation, serving the interests of more than 1,100 member companies.
---
PRINT DELIVERS RESULTS
Print is the ideal communications medium and a powerful marketing tool. But because it has been around for so long, print often gets lost in the enthusiasm for newer options, such as online and social media channels. Yet, after all, is said and done, print is still the prime communication and promotional vehicle. Why? Because of its unique characteristics: Print is durable, portable, credible, universal, beautiful, and works well with other media. Most important, print works.
---
Print is Effective
Studies show that print not only gets read (a whopping 79% of households read or scan the advertising mail they receive), it also drives both new and repeat business. In fact, 39% of customers try a business for the first time because of direct mail advertising, while 70% of customers renew a business relationship because of a direct mail promotion.
---
Print Provides a High ROI
A Direct Marketing Association study showed that direct mail advertising gives businesses, on average, a remarkable 13 to 1 return on their investment ("ROI"). The high ROI holds up across all industries. For example, printed catalogs have been shown to provide a 7 to 1 ROI and the lowest cost per lead/order, ahead of inserts, email, and postcards. In fact, a study conducted for the Art Technology Group found that 60% of consumers surveyed make purchases via printed catalogs at least four times each year.
---
Shoppers Prefer Print
Shoppers across all ages say that print—not digital—sources most influence their store and shopping decisions: 69% of shoppers rely weekly on newspapers, and 67% rely weekly on direct mail for sales and product information. These numbers are even higher among younger, and more digitally savvy, shoppers who also prefer weekly direct mail (92%) and newspapers (91%) as the most significant information channels.
The facts cannot be ignored: Print builds brand identification and powers sales. It's no wonder print media is still the workhorse of successful marketing and advertising campaigns.
---
PRINT PROMOTES FORESTS
There are many misconceptions about the environmental impact of print on paper. Since printers and their suppliers use natural resources—trees—as a substrate for their products, many people think that by forgoing printing, they are saving trees and making the right choice for the environment. However, the exact opposite is true.
---
Print Values Trees
Much paper now comes from sustainable forests. These sustainable forests are essentially "tree farms," where trees are grown as a crop, just like broccoli or wheat. When these trees are harvested, new stocks are planted. Print gives landowners a financial incentive to renew forests rather than convert them for other uses, such as agriculture or development.
---
Print Uses "Waste"
Overall, one-third of the fiber used to make paper comes from wood chips and sawmill scraps; another third comes from recycled paper. In the United States, 115 paper mills used recovered fiber exclusively in 2010, and 289 more used some recovered material in their manufacturing process.[3]
---
Print is Recycled
But that is not the complete story. Print on paper is recycled and reused. In 2009, 63.4% of paper used in the United States was recycled, and this number increases each year with more deliberate curbside and drop-off collection systems.[4] Recycled paper is used to make everything from construction products to consumer goods.
---
Print is Responsible
Just 11% of the world's forests are used for paper, and in the U.S. the wood used to produce paper increasingly comes from certified forests.[5] The Forest Steward Council (FSC) and Sustainable Forest Initiative (SFI) track fiber content from certified lands through production and manufacturing to the end product.
From sustainable forests to the renewable nature of trees and the recyclability of paper, the print and paper industries have a positive environmental story to tell—one in which print on paper and healthy forests thrive hand-in-hand.
---
PRINT DRIVES SALES
Print is a major driver of online sales. Print is a powerful media…and its power is multiplied when used as part of a multi-channel campaign. Print enhances the impact of television, telemarketing, and the internet by providing an extra dimension that's warm, inviting, highly personalizable, and technologically savvy.
---
Sales Lift
Studies show that print advertising drives consumers to online shopping. An iProspect study found that 67% of online searches are driven by offline messages, with 39% of shoppers ultimately making a purchase. Those shoppers who receive a direct mail piece directing them to an online site spend on average 13% more than those who do not receive a printed piece.[2]Moreover, printed catalogs associated with online sites alone have been shown to boost online spending by 28%.
A study by Exact Target found that 76% of internet users surveyed have been directly influenced to purchase an item or service thanks to a direct mail piece. A United States Postal Service study identifies a $21 million difference in online sales per million site visitors between those who had received a catalog at their home address and those that had not. Households receiving print catalogs shop online more often, spend more meaningful time at retail websites, and are found to be twice as likely to make an online purchase.
---
Brand Awareness in the Digital Age
Consumers are more likely to learn about new brands, products, and services from print media (e.g., magazines and newspapers), television and online media (e.g., news site and blogs) rather than from social media channels, such as Facebook and Twitter. In addition, highly active smartphone owners, those who do six or more activities daily on mobile, are both subscribing to and reading more print materials than any of the other groups (smartphone or regular phone owners).
---
New Opportunities-New Vision
While online and mobile use continues to grow, marketers are acknowledging and voting with their dollars that print media is a vital component of the marketing mix. Print is an integral vehicle in cross media platforms, employing innovative technologies, including PURLS, QR codes, augmented reality, and intelligent print imaging, to bridge the gap between the real and digital worlds.
---