Phil Scott Honored with PIAG Benjamin Franklin Award
Date posted
August 16, 2023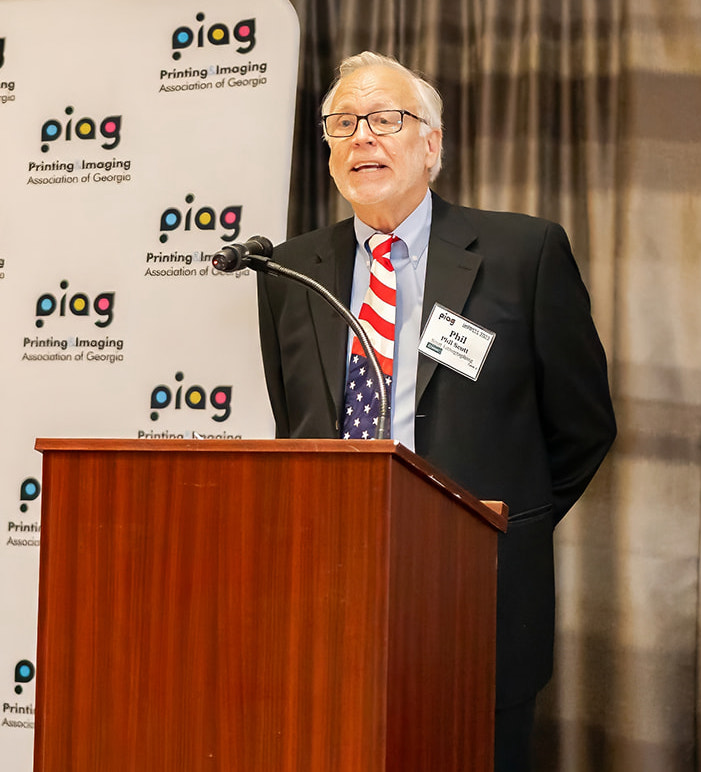 One of the industry's most well-respected figures was honored in his home state of Georgia for a lifetime of commitment and service to the printing and graphic communications community. Phil Scott of Scott Lithographing received the 2023 Printing & Imaging Association of Georgia (PIAG) Benjamin Franklin Award during the association's annual imPRESS Celebration of Print awards banquet on August 10 in Atlanta.
Accompanied by over two dozen family members and employees, Mr. Scott called the award a tremendous honor and spoke highly of his career in Georgia and his time serving and supporting PIAG. Attendees gave Mr. Scott two standing ovations.
"Phil Scott has been an example of leadership and mentorship in the graphic communications industry in Georgia since early in his career," said David Bennett, President of Bennett Graphics, who presented the award to Mr. Scott and who himself was a winner of the Benjamin Franklin Award in 2021. "But what also makes Phil so deserving of this award is his heart for helping others. He has no doubt distinguished himself as a man of strong moral character and goodwill to those in the industry, to his family, and to complete strangers."
Mr. Scott's father and uncle founded Scott Lithographing in 1966. He took over the family business in the early 1970s after earning a bachelor's degree in management science from Georgia Tech. In the following years, Mr. Scott and his brother continued to innovate and upgrade, carving out a strong presence in the Georgia print industry. Today, Mr. Scott's son Chad runs the company.
Mr. Scott served on the PIAG Board of Directors and has been a strong advocate for fostering future leaders through high school and college scholarship and workforce development programs.
He is also an active member of his community. He is a longtime youth sports coach and previously coached high school athletics while serving as a Board member of athletic associations for two metro Atlanta high schools. Mr. Scott also participates in several mission programs through his church.