PGSF Honors John Berthelsen with Annual Recognition Award
Date posted
October 31, 2022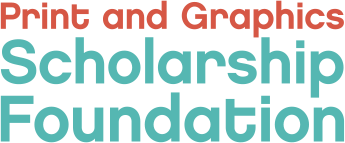 The Print & Graphics Scholarship Foundation (PGSF) is pleased to announce the inauguration of an award honoring the unending service of John Berthelsen to the Education of Students interested in the Graphic Arts. The award will be given out each year to a deserving individual or organization that exemplifies the ideals and practices of John over his many years of dedicated service to the industry and affiliated organizations. The recipient for the inaugural award for 2022 was presented to John Berthelsen at the Fall PGSF Board meeting.
John Berthelsen is the retired CEO of Suttle-Straus, a printing and distribution services provider that serves companies mainly located in the Midwest. John has over 50 years of experience in the graphic arts field and is recognized for his activities in the industry and the community. He grew Suttle-Straus from a company of six employees in 1979 to over 200 in 2014. He has served for over 20 years on the Print & Graphics Scholarship Board and has been the chair of the board twice.
Among the awards and recognition John has received in the printing and graphics industry, he has been a first place winner in the Vocational Industrial Clubs of America (VCIA) U.S. Skill Olympics, was recognized by his peers to become one of the youngest inductees into the Printing Industry Hall of Fame, was Edgewood College's first ever recipient of the President's Award for Ethical Leadership, the recipient of the 2012 Lewis Memorial Lifetime Achievement award, and has been named among the Graphic Arts Leaders of America by the Graphics of the Americas. John is also a member of the Ben Franklin Society and Soderstrom Society.
Jules VanSant, PGSF Board Chair shared, "John has been a leader, supporter, and partner in PGSF for many years as well as a mentor for me. Our entire board is thrilled to honor his service and passion with this award!" Upon receiving the award, John said "I am humbled and honored to receive this unexpected recognition. I have simply tried to give back to an industry that has blessed me with a remarkable career along with many friends and associates. I look forward to continuing to contribute to supporting our workforce of tomorrow."
The award will be presented annually around the time of the PGSF's Fall Board Meeting. Nominations for the award can be submitted to contact@pgsf.org

About PGSF
The Print and Graphics Scholarship Foundation is a not-for-profit, private, industry-directed organization that dispenses technical and college scholarships and assistance to talented youth interested in graphic communication careers, as well as current employees in the industry. The mission of PGSF is to promote the graphics industry as a career choice and to support students through their education process.

Contact:
Jeffrey White
Director of Development
412-608-2855
www.pgsf.org
jeff.white@pgsf.org