Kent Tucker Announced as 2022 Ben Franklin Award Recipient
Date posted
August 8, 2022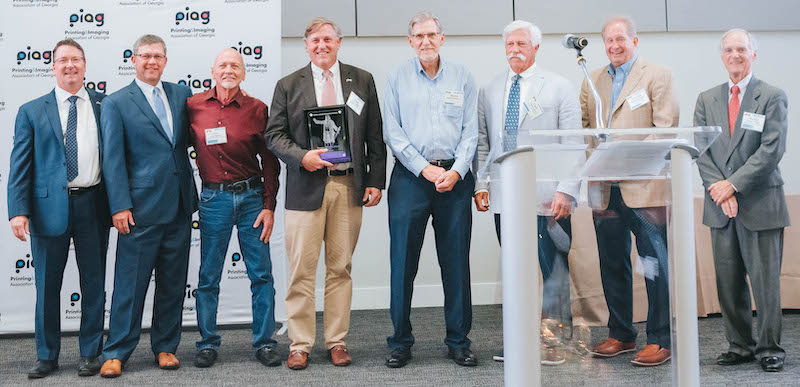 PIAG's Benjamin Franklin Award recognizes an individual for lifetime contributions and achievements within our industry and within their community. This award is the highest honor presented in Georgia's printing industry, and the recipient is chosen by a Selection Committee composed of Past Benjamin Franklin Recipients and the PIAG Executive Committee.
PIAG is proud to honor Kent Tucker of Tucker Castleberry as the 2022 Benjamin Franklin Award recipient.
A native Georgian, Kent Tucker was born in Atlanta to Tuck and Sara Tucker. He is the middle child, with an older brother, Jody, and younger sister, Mallory.

In large part due to his father's passion for coaching baseball, Kent's life revolved around sports growing up. He loved being part of a team, a key trait for his future, and enjoyed playing football, basketball, and baseball as a child and throughout high school.

After graduating from the Lovett School, Kent continued his education at the University of Georgia (Go Dawgs!) where he would meet his future wife, Beth.

The Tucker family has deep roots in the printing industry as Tucker Castleberry was founded by Kent's grandfather, Wiley Tucker Sr., and A.C. Castleberry in 1949. Kent's father, Tuck, currently runs the company.

Given the family history, Kent's love for print started at a young age. As a teenager, Kent was lucky enough to have a summer job at the family company. Jody was now old enough to shuttle them to and from the plant on Luckie Street, and they spent most of their teenage summers working in shipping/receiving, prepress, the bindery, and even a summer working on their 1979 Heidelberg 5 color press.

After graduating from UGA, Kent began working full time at Tucker Castleberry, starting out in Customer Service, before moving to Estimating, then Production Manager, and eventually to his current role as Executive Vice President leading the sales team.

In 2001, Kent and Beth married, and they now have two children: a son Ben and daughter Maggie. In his free time, Kent enjoys coaching youth sports, golfing, fishing, grilling, and cooking. In fact, this year marks his 20th year of volunteer coaching youth sports. He is also active in his local church, where he has served as an usher since 2005 and currently serves as president of their Sunday school class with Beth.

Kent's volunteerism doesn't end with his local community. He is committed to the advancement of the printing industry and his involvement with PIAG is extensive. After first joining the Board of Directors in 2009, he then served as Chairman twice, in 2013 and 2016. He has also been a member of a PIA peer group for the past 15 years.
For over 20 years, Kent has worked alongside his dad in an industry they're both passionate about. They have built an exceptional company, with customer relationships of 30+ years and an average employee tenure of over 18 years. Integrity, respect, and responsibility are the forefronts of their success, and Kent fully embodies each one of those traits.

Kent's grandfather won this award in 1985, and his father won it in 1998. It is an honor for this family tradition to continue, and this will mark the first time three generations have been recognized with this award.