Going Green
A COMPREHENSIVE GUIDE TO RESOURCES TO HELP YOU MEET YOUR SUSTAINABILITY GOALS.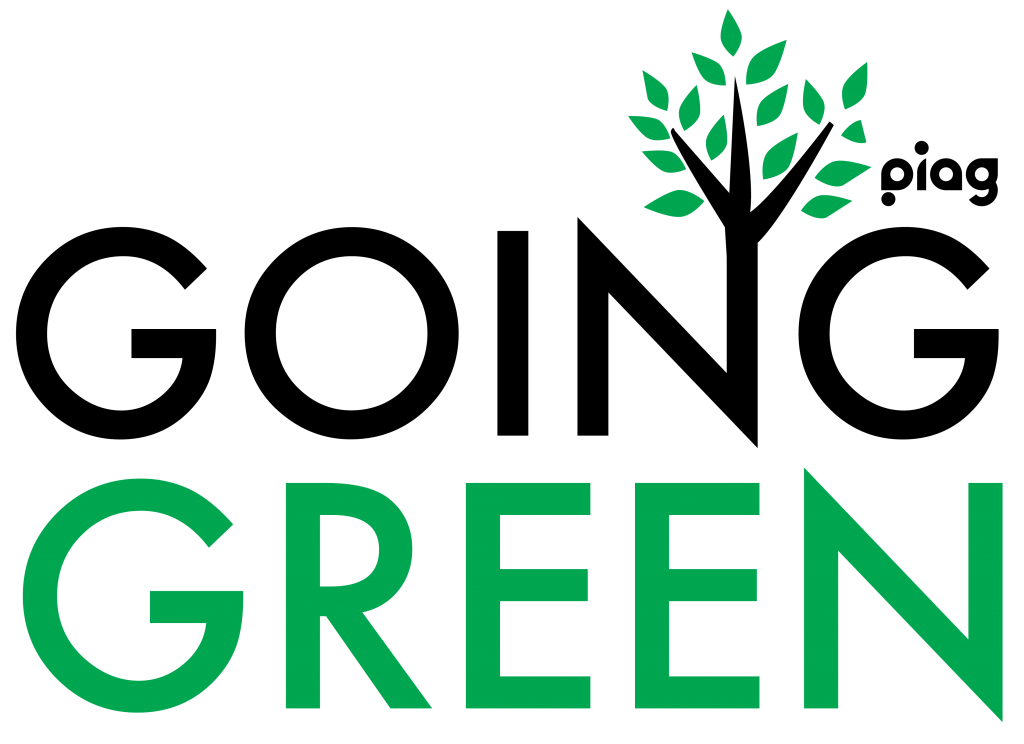 With our industry's need to continue a shift towards more environmentally-sustainable resources, PIAG has created this guide for you (or anyone) to use to help find ways to become more sustainable in their practices.
DID YOU KNOW?
| | | |
| --- | --- | --- |
| 500,000 | 13,000 | 17 |
| trees to produce each Sunday paper | pieces of mail an average American throws away each year | trees saved by every ton of paper saved |
RESOURCES
Re-nourish is dedicated to helping the graphic design community grow into a more sustainable industry. Use their tools and information to expand your knowledge and build a more sustainable practice.
Tools found on Re-nourish include:
*

*Attention Green Printers! Make sure you are listed on Re-Nourish's Green Printer Tool.** Apply


Provided by Fast Company.
Offers online services including daily feature stories, a free press release service, and publications of environmental news.
Offers online news and information resources on how to align environmental responsibility with business success.
The mission of the Environmental Protection Agency is to protect human health and the environment. Since 1970, EPA has been working for a cleaner, healthier environment for the American people.
Founded in June 2007, the SGP Partnership was established by three founding organizations—Printing Industries of America, SGIA, and FTA—as an independent third-party verification organization. Due to a growing demand for sustainable printers, the Sustainable Green Printing (SGP) Partnership was formed to establish a source of credible information related to sustainable business practices across all print platforms. Visit the link in order to find out how your business can become an SGP Printer today.
CERTIFICATIONS
SGS provides inspection, testing, certification & verification services to ensure that products, services & systems meet quality, safety & performance.
---
Chain-of-Custody Certification
---
Checklist / Summary of Certification
*SGS is now offering a cost-saving arrangement to PIAG members. There are a few cost components involved with the certification process.
---
Two of the major ones are:
The "daily rate" for the auditor's on-site services. SGS is offering PIAG members a daily rate of $1,200 (representing a 14% discount off its regular rate). Typically, the audit consumes 3/4 of a day ($900) but can be longer for larger companies.
Travel expenses and travel-time charges for the auditor. SGS will work with PIAG members to schedule back-to-back audits where feasible so that these costs can be apportioned. There are attractive savings involved with these "bundling" arrangements that can be affected for both the initial and annual audits.
There are also significant savings for PIAG members on annual recertification!
There are other certification cost components — for example, licensing and administration fees required by the standards group(s) which are billed at cost by SGS.
If you're interested in taking advantage of the SGS program, call PIAG at 770.433.3050 or 800.288.1894.
The Sustainable Green Printing Partnership offers an application process for certification for SGP Printers.
FSC is an independent, non-governmental, not for profit organization established to promote the responsible management of the world's forests.
Certifying print, digital, packaging projects and studios

Re-Nourish has developed a tiered set of standards that allows anyone to immediately place a given printed piece (or the studio that produced it) into a sustainable context. By providing reliable third-party evidence that specific and rigorous design criteria have been met, designers now have the power to quickly and painlessly educate clients and the public at large about their sustainability efforts.
The Rainforest Alliance works to conserve biodiversity and ensure sustainable livelihoods by transforming land-use practices, business practices and consumer behavior.
SCS is a leading third-party provider of certification, auditing and testing services, and standards, founded in 1984. 

---
Certification