Back to Events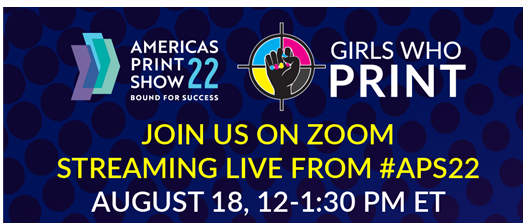 Girls Who Print - Live from America's Print Show 2022
Thursday, August 18, 2022
Event Details
Girls Who Print is broadcasting LIVE from Americas Print Show! If you can't make it to Columbus, we are bringing the program to you!
Join us Aug 18, 12-1:30 ET. It's FREE and EVERYONE is welcome - yes that means guys!
Registration has closed
There are no slides. We are pointing a computer at the panel, nothing fancy to see. Turn it on and listen ... There will NOT be a replay!
#GirlsWhoPrint Zoom Room hosted by Amanda Bronowski.
If you can make it to Columbus, join us there and register here: americasprintshow.com
PRINT LONG AND PROSPER!